Quattro Development's passion is building your project at Main & Main nationwide
Clear vision, focused principles, and an exceptional team are the foundation of every Quattro Development project.
Vision
What's your ideal Main & Main? We'll work with you to get you there. Our goal at Quattro Development centers on your commercial development needs.
When you're ready to open a new location, we'll thoroughly research markets – including first-hand, boots-on-the-ground visits. Armed with this and a host of other data, Quattro Development presents a current and complete market picture that gives you the power to make the best decisions for your project.
Count on Quattro Development to get your project to your Main & Main.
Principles
From day one, Quattro Development was built on relationships grounded in honesty and integrity. It's quite simply the way we do business. From the conference room to the construction site, our people and our company believe in these core values.


Team
The talented people of Quattro Development bring a wealth of experience to every facet of your project. From site selection and acquisition to construction and opening, we focus on your commercial real estate goals. Every member of our team takes pride in our process that promises efficient development, clear communication, and on-time delivery.
When you've got questions, the Quattro Development team has answers. Our commercial development expertise covers the entire United States. Got a target trade area in mind? Maybe several across multiple states? Our market knowledge will help you hit your growth goals quickly and efficiently – on time and on budget.
We've built our company by surrounding ourselves with bright, talented people who believe in personal service and enjoy what they do.
From the beginning, the principles of honesty and integrity have forged our reputation and fostered our relationships. We've built our company by surrounding ourselves with bright, talented people who believe in personal service and enjoy what they do.
Together, we bring a wealth of experience to every facet of your project.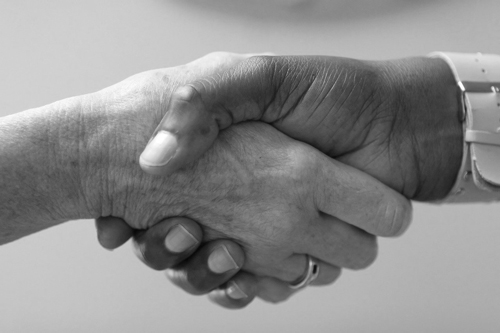 Mike Liyeos has been active in the real estate industry in various capacities for two decades.  His work began at Colliers Turley Martin Tucker in St. Louis in 1997 where he was a Real Estate Manager responsible for opening new branch offices for Edward Jones Investments throughout the United States.
Upon moving to Chicago in June 2000, Mike joined the Real Estate Advisory Services practice of Ernst & Young where he focused on providing consulting services to many leading companies and retailers including Best Buy, FedEx, Bank One/Chase Bank, and General Motors.
From there, Mike started working as a developer for InSite Real Estate Development in Oak Brook, IL where he completed over a dozen retail development projects throughout the Midwest during a span of three years.
Mike left InSite in May 2007 with his co-worker Rob Walters to launch Quattro Development as a real estate development company focused on creating strong client relationships that garner a "Preferred Developer" relationship with targeted retailers.  Quattro leverages these relationships and couples them with a standardized development process to deliver effective and efficient results to its clients.
Mike received a Bachelor of Arts degree in Speech Communications from the University of Illinois in Urbana-Champaign and both Juris Doctorate and Master of Business Administration degrees from Saint Louis University in St. Louis, Missouri.
Mike lives with his wife Kristen and three children, MJ, Grace, and Nicholas, in Naperville, IL.
Rob Walters spent his first three years in the real estate business at InSite Real Estate Development in Oak Brook, IL focused on acquiring land sites for the development and leasing of small-shop retail space. In three years he developed twelve projects in four states. In addition to these developments, he signed leases and built relationships with many retailers including Chipotle, FedEx Kinkos, T-Mobile, Allcare Dental & Dentures, Duckwall-Alco, Sprint, Potbelly Sandwich Works, and Starbucks.
Rob left InSite in April of 2007 to start Astro Real Estate Development which was the precursor to Quattro Development L.L.C., his current venture that is solely focused on small-shop retail build-to-suit projects nationwide. Quattro endeavors to be the premier developer of small-shop retail space in the country. Rob graduated from the University of Illinois Urbana-Champaign's College of Business with a Finance degree.
Rob also served in the National Guard as an officer and is currently active as a founder of First Chance, a not for profit organization that sends lower income, inner-city high school students on study and volunteer abroad opportunities.
Director of Land Acquisition
Grant joined Quattro Development as graduate of Indiana University's Kelley School of Business.
With a B.S. in Finance and a wide range of experience in a variety of industries, Grant has developed a holistic understanding of business.
Grant works as Director of Land Acquisition at Quattro Development. He researches sites nationwide for the perfect location for each project. Grant prides himself in discovering "Main & Main" for each tenant.
Director of Planning & Development
Mike Haigh began his work in the real estate industry in 2006 at NAI Hiffman in Oakbrook Terrace, IL in the industrial brokerage department. While at NAI Hiffman Mike provided market research for various development opportunities in the suburban Chicago area and assisted with the acquisition of new industrial clients. At Quattro Development Mike is in charge of land acquisition and is focused on acquiring the ideal location for their build-to-suit clients. Mike studied international business at the Universidad Pablo de Olavide in Seville, Spain prior to receiving a degree in finance at the University of Illinois in Champaign-Urbana.
Peter Pavek joined Quattro in October of 2021 as a Construction Project Manager after managing projects in various other fields, including oil and gas, manufacturing, and industrial construction.
At Quattro, Peter is in charge of executing on site build-outs from site conception, due diligence, design, construction, through close out. He strives to take a customer-centric approach throughout each step of the project to further Quattro's "preferred developer" approach with its clients.
Peter studied Mechanical Engineering at Penn State University then moved to Saudi Arabia for 3 years before settling in Chicago in 2016. He is an avid cyclist, traveler, and enjoys exploring Chicago's food scene.
Director of Construction & Development
Brett Dahlman joined Quattro Development following an 18 year career as a consulting civil engineer. For the previous ten years, he served as the Civil Engineering Department Head for the local office of a nationwide engineering consulting firm. Brett is a professional civil engineer licensed in eleven states.
Brett serves as the Director of Construction & Development and provides expertise in civil engineering design, project management, permitting, the bidding and awarding of contracts, and construction administration for a wide variety of development types.
Brett received a Bachelor of Science in Civil Engineering from the University of Wisconsin – Platteville, WI.
Director of Business Development
Owen England joined Quattro as the Director of Business Development for Quattro following a year as a Project Manager for a locally headquartered engineering firm working on both nationally & internationally based projects.
Owen uses his talents to assist Quattro in site selection, analytics, relationship building, and assisting in client wants & needs.
Owen is a former football player and graduate of the University of Wisconsin- La Crosse where he received his Bachelor's in Finance.
Director of Strategic Projects
Our hands-on approach from start to finish puts you at Main & Main anywhere across the country.